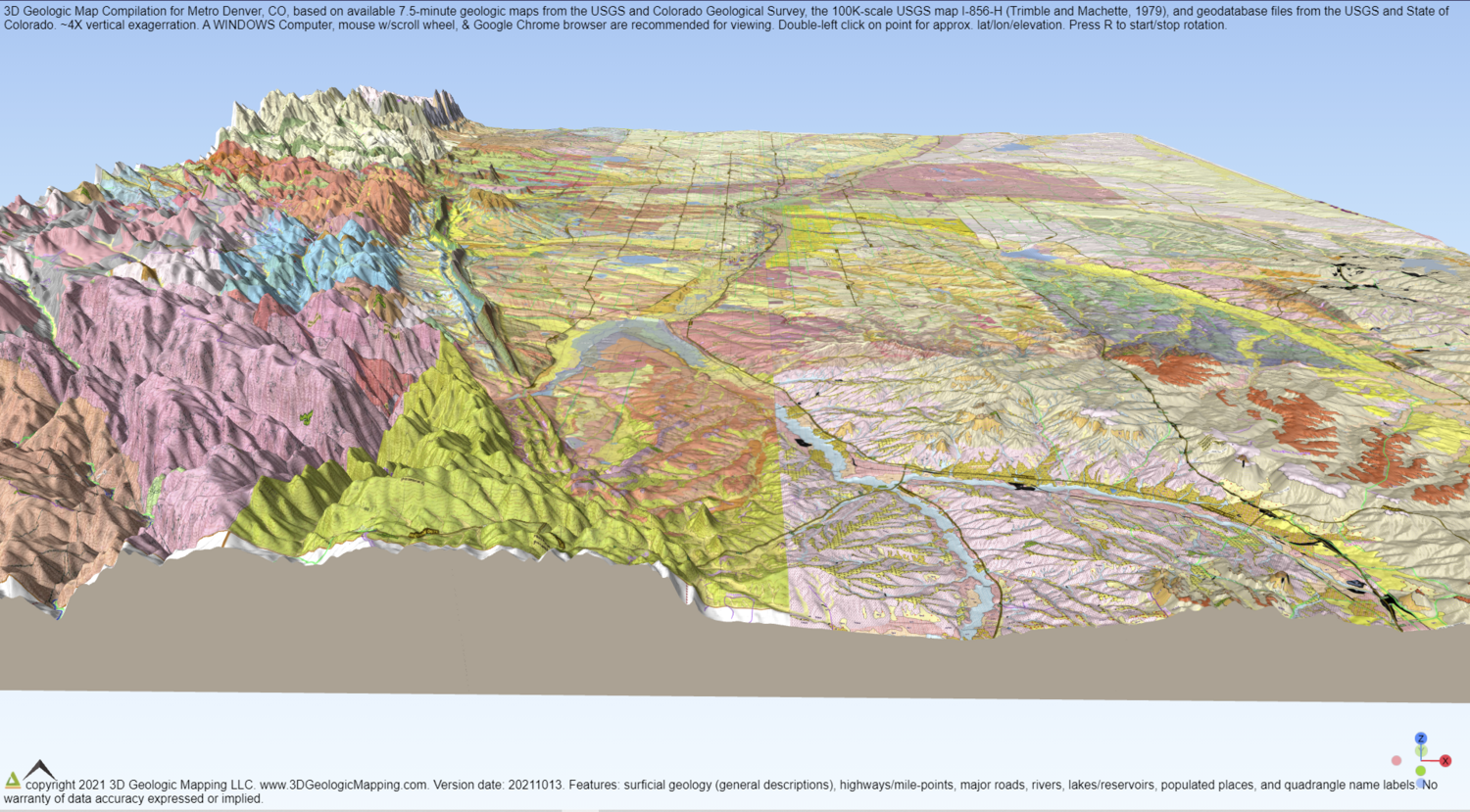 Detailed 2D and 3D Geologic Maps of Metro Denver (2 files)
SKU 00001
Product Details
You will gain a big-picture understanding of the geology of Metro Denver with this comprehensive, interactive 3D map that covers thirty-five (35) quadrangles (7.5-minute/24K scale). The finest detail 7.5-minute geologic maps published by the USGS and Colorado Geological Survey cover all but 20% of the map area. The 100K scale USGS Geologic Map of Denver (I-856-H) covers the northeast portion of the map area where finer detail geomaps are not yet published.
In addition to the Geology Layer discussed above, this digital map has three (3) other layers: (1) Navigation features with labels for the main roads, streams, and lakes, plus mile-points along the highways, overlain on 100K scale topographic base-maps; (2) Groundwater depths in wells from the Colorado Division of Water Resources (see the blue numbers at the wells which indicate the reported depth to groundwater in feet below ground); (3) Elevation zones in 400-ft color bands.
The map's tools allow you to turn layers on/off and adjust their opacity, plus you can add a custom elevation plane at the height you want, and when you double-left click any place on the map the point's coordinates (lat/lon) and approximate elevation (feet).
System requirements: Windows computer, an internet browser (Google Chrome or Microsoft Edge), and a mouse with 2 buttons and a scrolling wheel is highly recommended. Storage on your computer hard-drive for this product folder which is 467 MB when unzipped.
Save this product for later